Hangar Talk: Midair Collision Prevention
Alaska Airmen Association

Tuesday, March 19, 2019 (5:30 PM - 7:00 PM)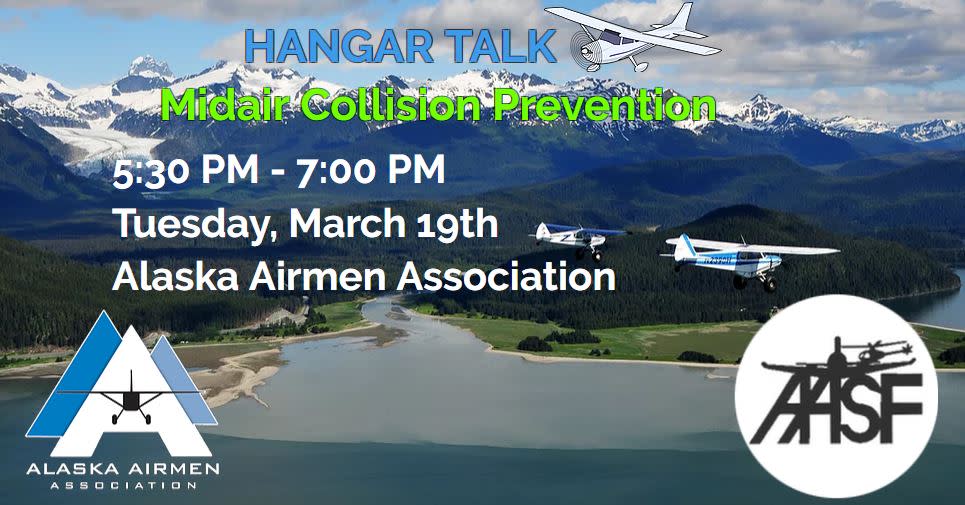 Alaska is a big state with a lot of airspace, and yet midair collisions still occur.
The Alaskan Aviation Safety Foundation and the Alaska Airmen Association will be hosting Hangar Talk at 5:30 pm on March 19th, 2019 at the Airmen Association's building on Lake Hood for some hangar talking about preventing midair collisions.
We are bringing together a panel of pilots and safety experts to share their experience with midair collisions and the aftermath, address limitations of human sight on see and avoid, and present prevention strategies used by commercial pilots operating in some of the busiest airspace in Alaska.
If you would like to learn more about preventing a midair collision, please join us Tuesday, March 19th at the Alaska Airmen Association building at 4200 Floatplane Drive in Anchorage from 5:30 to 7:00 p.m. Please call 907-245-1251 with any questions.
Event Contact:
Oscar Sigl
Contact Organization:
Alaska Airmen Association